Lewis Cauble, the WNC State Bee Inspector, will be giving free sugar roll demonstrations at Wild Mountain Bees the second Saturday of every month April through October!! Sugar rolls are a great way to monitor the varroa mite population in your hive, so join us for some free education!
The next Sugar Roll Demo at Wild Mountain Bees will be Saturday, September 9th, at 2pm!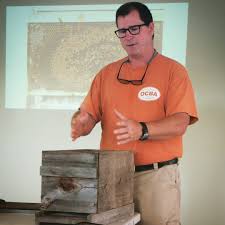 ---
WINTER PREPARATIONS CLASS ~ $45
~August 27, 2017 - 12pm-5pm +/- (1 hr lunch break)~
Have you had a great season with productive hives only to find your bees dead by mid-winter? Or are you new and not sure what your bees require to enter winter in good health and with adequate food? The last thing folks think of in the August heat is winter but it is most definitely the time to begin preparing your bees. Sometimes you can do everything right and still lose, but the information you gain from this class (if applied!!!) will help you lose less! We will discuss in detail how to evaluate and deal with pests and disease, poor or failing queens, winter stores and feeding. Timing is critical for successful wintering and that time is swiftly approaching.

Adult Art Series with Jeannie Regan
~Fridays from 6-8pm, September 15-October 27th.
~$30 per class or $190 for all seven.
Join local artist Jeannie Regan for her seven-week pollinator art series at Wild Mountain Bees! Call (828) 484-9466 or email wildmtnbees@gmail.com to register. Drinks and materials included!
15 Sept
: Painting 1 - Bees in Flight / Queen Bee
22 Sept
: Painting 2 - Bees in Flight / Queen Bee
29 Sept
: Printmaking 1 - Lino Cut / Stencils and simple block prints
6 Oct
: Printmaking 2 - Lino Cut / Stencils and simple block prints
13 Oct
: Mixed Media 1 - Quilling and Collage
20 Oct
: Mixed Media 2 - Fiber Art
27 Oct
: Open Studio Session
Kids Art Series with Jeannie Regan
~Saturdays from 2-4pm, September 16-October 28.
~$19 per class, or $17 for two or more kids.
16 Sept
: Printmaking 1 - Prints on paper
23 Sept
: Printmaking 2 - Print a shirt or tote
30 Sept
: Needlepoint / Yarn craft
7 Oct
: Quilling / Paper craft
14 Oct
: Make A Dry Erase Board
21 Oct
: Pollinator Costumes for Halloween
28 Oct
: Pollinator Costumes for Halloween
These classes would best suit ages 8+, but I will accommodate all ages and have a simple alternative activity, such as rock painting or thumb printing.

Call (828) 484-9466 or email wildmtnbees@gmail.com with questions or to register.
---
To Be Announced Classes:
BEEGINNER BEEKEEPING ~ $45
~ Check back with us in Spring 2017!


This class will offer a whirlwind of info from hive placement to season long management. You will also receive a handout of month by month management tips specifically for our region. The lecture will be followed at a later date by a hands-on in hive session which you will find invaluable in gaining comfort and confidence when approaching and working your colonies. Classes will be taught by Sarah McKinney, the owner of Wild Mountain Bees, and are a wonderful addition to any other bee schools or classes you may have the opportunity to attend.
HANDS-ON IN HIVE SESSION (this is included with the Beeginner Beekeeping Class, but can also be taken separately)
Hands-on session followed by some Q & A. Call the store to reserve your spot for a 2 hour slot on the date listed above. You can also take the hands-on portion without the lecture if space allows for $22/person.

BEAR FENCING 101
 ~ $12 ~ TBA for 2017 4:30 pm - 5:45 pm
"Why I ain't never seen no bear round here." Experienced Beekeeper: "Just wait til yah put out the buffet neighbor...
"
Its a fact folks, bear populations are increasing in WNC and expanding into new territories. Your bees are not immune to the ravages of these hungry critters on a high lonely mountain or in downtown Asheville. Learn how to protect your investment (and the bears) with an electric fence. We will discuss location, solar, battery powered, and A/C plug in chargers, fencing materials and installation and most importantly grounding.
MAKING INCREASE (NUCS & SPLITS)
 ~ TBA for 2017
Want to become more self-sustaining in your apiary? Tired of buying bees year after year? Learn the alchemy of making new colonies from your strong ones to increase your numbers and/or cover your losses before they happen. We will also discuss utilizing natural swarm cells, re-queening, and wintering nucleus colonies. Sarah McKinney will be teaching this lecture and demonstration class for intermediate and advanced beekeepers (or the occasional well read beginner!).
TOP BAR BEEKEEPING (with Top Bar Tom)
 ~ TBA for 2017
This class will be a fine intro for beginners as well as intermediate level top bar enthusiast and will include practical hands-on in hive time. Tom is a great presenter and champion of simple sustainable beekeeping.


WE SELL TOP BAR HIVES MADE LOCALLY WITH LOCAL LUMBER AND LOVE.

BEEKEEPING WITH KIDS
 ~ TBA for 2017
Excellent opportunity to connect with your kids and train the future stewards of our honeybees. This is a parent/child class with fun, games, storytelling, and a live observation hive. Class will be taught by Sarah McKinney her daughter Zoe, and son Willow. For ages 5 to 14+ (NOTE: mature kids/teens may prefer an adult class.)



MEAD & HONEY WINE MAKING CLASS

$40 ~ TBA for 2017
HOLIDAY GIFTS FROM THE HIVE: BODY BUTTERS
$40 ~TBA ~ 10am-2pm +/-
COLD PROCESSING SOAPS
$35 ~ TBA ~ 10am-1pm
---
More classes to come on advanced management techniques, queen rearing, candle-making, and more!
We sell high-quality, competitively priced, field-tested fence chargers and bear fencing supplies.
Advanced payment is required to reserve your spot as classes always fill up fast.
Make sure to check your calendar as class fees are non-refundable if you fail to attend.

Email: wildmtnbees@gmail.com, call: 828-484-9466 or drop by the store to reserve your spot.